Nuestras vidas se han convertido en un agenda continua en la búsqueda de soluciones para todas nuestras necesidades diarias. El trabajo, los atascos, el transporte público, corre al gimnasio, ve a las clases de algún idioma, recoge a los niños del cole y llévalos a la academia, ten hecha la cena, prepara la comida del día después, el móvil es una parte fundamental de tu cuerpo...
¡Tu mente no para!
Los expertos aconsejan que diariamente uno debe buscar un espacio para el cuidado personal, sobre todo, de la mente.
En Per Purr nos hemos propuesto diseñar un ritual para que generes una atmósfera de calma y relax en tu baño. Como le decimos con cariño, "Lleva el Spa a casa".
Descubre las herramientas que hemos incluido en este Pack Relax.
Aceite hidratante que protege, suaviza y nutre las pieles más delicadas y sensibles, ayudando a disminuir la irritación causada especialmente por la sequedad. Por sus propiedades relajantes, este aceite es perfecto para encontrar un espacio de tranquilidad y de cuidados personales dentro de la rutina del día a día. Su base olfativa de lavanda y camomila te invita a darte un break.  
Jabón de baño compuesto por aceites vegetales como oliva, aguacate y esencia de lavanda que poseen infinidad de propiedades beneficiosas para la piel. Gracias a los polifenoles del aceite de oliva la piel adquiere suavidad, tonicidad y brillo. El aguacate favorece la producción de colágeno reduciendo la probabilidad de envejecimiento prematuro. Finalmente, la esencia de lavanda conduce a una relajación total. Este producto deja menos huella ecológica generando menos residuos.
Transforma tu baño en toda una experiencia a través de la talasoterapia. Este método de terapia basado en los elementos marinos proporciona grandes beneficios a la piel. La sal de Epsom históricamente se ha usado por sus cualidades terapéuticas que combaten el estrés y la ansiedad. Nuestros aceites esenciales de menta, albahaca y romero se encargan de convertirlo en una explosión aromática.   
¿Cómo sería el tratamiento ideal?
Paso 1: Date un baño con las Sales Herbal en la bañera. Música relajante, un vinito y cierra los ojos. Desconecta, céntrate en los olores y las sensaciones de tu cuerpo bajo el agua.
Paso 2: Dúchate con el Jabón Relax, disfruta de su cremosidad y olores.
Paso 3: Activa la circulación y descongestiona tus músculos con masajes drenantes utilizando nuestro Aceite Corporal Relax.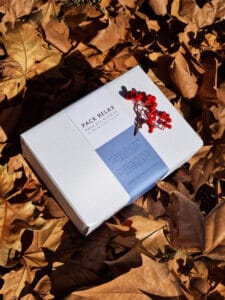 Este nuevo lanzamiento por Navidad es un regalo perfecto para hacerte a ti mismo o a los tuyos.
Regala Paz en estas Fiestas.
Esperamos vuestra opinión de este ritual. Escríbenos.
Cacao: Great for your skin and delicious as well
Chocolate isn't just delicious, it's also very good for your skin.
Theobroma cacao (or "food of the gods" – we couldn't agree more!) is a plant native to the Amazon, which has been in existence for thousands of years.
We admit it, we're addicted! Chocolate melts beautifully both in the mouth and on the skin.
Omega-3 and Photo-aging
There are ever more studies that point to the benefits of chocolate, including one published in the International Journal of Pharmaceutics which indicates that topical omega-3s can reduce UV sensitivity (signs of photoaging) in skin cells (1). Research suggests that there's a possibility that skin care products rich in omega-3 or omega-6 fatty acids may actually improve the skin's appearance (2).
Cacao is the ingredient per excellence in all chocolate products, and a very complex foodstuff nutritionally rich in minerals, antioxidants and vasoactive compounds.
Hippocrates, the famous Greek physician who's considered the father of medicine, said:
"Let food be thy medicine, and let medicine be thy food."
The idea that chocolate can serve quite literally as "medicine" has already been taken up in scientific literature (3).
Cocoa butter, the natural oil derived from cacao beans, contains omega-3 fatty acids which provide the skin with a healthy dose of soothing rejuvenation, as well as antioxidant effects (2). And there's a great deal of evidence pointing to the health benefits of regularly eating dark chocolate.
Acne and Chocolate
 It's nothing more than a myth that chocolate causes acne. However, while it doesn't cause acne, chocolate is still full of high-calorie, high-fat ingredients. These days, there's more attention being paid to the link between diet and developing acne.
Acne is a complex skin problem and breakouts can come and go for no real reason. But there's strong evidence which connects acne with a Western diet, rich in calories, fats, and refined carbohydrates. Fast food – like hamburgers, fried chicken, hot dogs, french fries, and soft drinks – can increase the risk of acne. The high sugar and fat content can boost sebum production, a determining factor in the development of acne.
So, if "blaming chocolate" is more or less a fabrication, where did it come from?
Food is far from the most likely culprit when it comes to acne. The real causes of acne are the accumulation of dead skin cells inside your pores and the skin's overproduction of oil (sebum), combined with excess bacteria.
Hormones also play an important role in acne breakouts. That's why acne is so common during puberty and at that time of the month for people who menstruate, meaning your chocolate consumption ends up coinciding with your breakout! Predisposition to acne is also hereditary. So, if your parents had acne, you'll probably have it too.
At Per Purr we have Fresh Soap, a refreshing soap ideal for all skin types, made with plenty of cocoa butter mixed with chopped mint leaves and three essential oils: peppermint, lemongrass and basil.
The bottom line? Cheer up and eat your chocolate bars…in moderation!
Studies:
¨1¨ https://pubmed.ncbi.nlm.nih.gov/15979259/
¨2¨ https://www.ncbi.nlm.nih.gov/pmc/articles/PMC4696435/
¨3¨. Franco OH. Bonneux L. de Laet C. Peeters A. Steyerberg EW. Mackenbach JP. The Polymeal: a more natural, safer, and probably tastier (than the Polypill) strategy to reduce cardiovascular disease by more than 75% BMJ. 2004;329:1447–1450. [PMC free article] [PubMed] [Google Scholar]
Is it true that shampoos without sodium lauryl sulfate don't produce foam?

SLS has been used as an ingredient since 1930, commonly used as a cleaning agent in household disinfectants, laundry detergents or dishwashers, as well as in shampoos, body washes and toothpastes.

Today, sodium lauryl sulfate is frowned upon for unfounded reasons. There is a current narrative in which SLS is a threat to human health, with claims that it can cause cancer, hair loss, disrupt biological systems, etc. These claims are not scientifically supported and therefore should be considered false and misleading.


Why don't we use it at Per Purr?

It turns out that SLS is a great inexpensive surfactant with a high cleansing capacity, and it also creates a rich foam. But it is not the best choice for everyone. Because of its strong astringent action, it has a more abrasive effect, which can cause irritation for some people. Today, there is a new generation of gentler surfactants with an excellent cleaning capacity.
Biotechnology allows these new cleaning agents, natural plant-based (surfactants), to perform their functions gently. This technology also means they are biodegradable, and all of their components are derived from renewable and sustainable natural resources (plant-based).
They say: "You don't need foam to get a good wash."


It's true. But at Per Purr, we love foam and we don't want to do without it. Foam is a fundamental part of a pleasant shower, helping to achieve a soft, silky and natural look.

SLS-free shampoos are known for not creating foam or lathering. At Per Purr, we use extremely mild sulfate-free surfactants (detergents) that provide a deep and long-lasting clean feeling, and create a rich, dense lather.

 
What is psoriasis?
Psoriasis is a non-contagious dermatological condition that causes skin cells to multiply much faster than they should.
Normal skin cells usually grow and change completely within a month, but with psoriasis, this process takes place in just three or four days. Its classic manifestation is the appearance of various sized patches that are itchy, red and flaky. The lesions can appear anywhere on your body, but usually appear on the scalp, elbows, knees, nails, hands, feet and back.
People with psoriasis can also develop a type of arthritis called psoriatic arthritis, which causes pain and swelling in the joints. The American National Psoriasis Foundation estimates that 10% to 30% of people with psoriasis also develop psoriatic arthritis.


What are the causes of psoriasis?
Caused by a dysfunction of the immune system, psoriasis affects 2% to 4% of the population. It is an autoimmune disease, which means that part of your body's own immune system becomes overactive and attacks the body's normal tissue. Psoriasis usually appears in people aged 15 to 35, but also affects children and older people.
Scientists do not know exactly what causes psoriasis, but we know that the immune system and genetics play a significant role in its development. Psoriasis is diagnosed by a dermatologist who will evaluate the lesions during a physical examination. The doctor may also do a biopsy: remove a small sample of tissue and analyze it to make sure it is not a skin infection. There are no other tests to confirm or rule out psoriasis.

What is the treatment of psoriasis?
There are many types of treatments, but there is no definitive cure yet. Dermatologists tailor treatment plans based on the location, severity and size of the lesions, lifestyle, age and other factors. Treatment options range from less aggressive options, such as moisturizers, corticoid creams and retinoid creams, to moderate and more severe treatments, such as:
ultraviolet light (phototherapy), which slows the acceleration of growth of skin cells.
oral, subcutaneous, intramuscular and intravenous medicines.
Which cities should you visit In Portugal?
Now that Per Purr is arriving in Portugal, here are a number of cities that you should visit to
get to know a little more about the country of our Iberian brothers and sisters. Grab your
suitcase, your Per Purr travel kit, and let's take a trip together.
Lisboa, the city of the 7 hills
● Lisbon is the capital of Portugal, also known as "the city of 7 hills", due to its hilly
streets. Experience Lisbon's charm when you take a ride on tram 28 that winds
through the center of the capital, visiting the Castle of São Jorge and the Sé
Cathedral. Don't forget to walk around Belém, visit the Tower, the Padrão de
Descobrimentos and Jerónimos Monastery, and finish the day with a pastéis de nata
(Portuguese egg tart pastry) and an espresso. A walk through the Baixa Chiado is a
must, with its typical shops and cafes. The café "A Brasileira"preserves its old-world
charm, where you can also find the statue of the famous Portuguese writer,
Fernando Pessoa. If you like nightlife, then Barrio Alto is your spot – it has many bars
and terraces that you can check out with your friends at night. The Rua Cor de Rosa
near Cais do Sodré is a street which, ages ago, was lined with bars for the sailors
who used to frequent them looking for prostitutes, but is now filled with nightlife, bars
and trendy restaurants.
Caldas da Rainha the healthy city
Caldas da Rainha is one of the healthiest cities in Portugal, where the queen used to
go to soak in the hot springs for some self-care. It was here that the first Thermal
Hospital in the world was established. The city is famous for the renowned ceramics
of Bordalo Pinheiro, which are very characteristic of the city. Here, you can find
plates and trays in the shape of cabbage leaves, fruit and animals. If you want
something more traditional, buy the famous black swallows to put on the wall in your
house. You can also find the Foz do Arelho beach near Caldas da Rainha.
Sintra, a fairytale village
● Sintra is a small village near Lisbon, which you can get to by car (be careful when
parking) or by train. Sintra is a city straight out of a fairytale, with its Palácio da Pena
at the very top (summer residence of the last monarchs of Portugal), which is worth a
visit just to see its rooms decorated as if people still lived there. A little further down,
you'll find the Quinta da Regaleira, a magical property where you can get lost in its
gardens and mazes. Visit the village of Sintra and sit outside on a terrace to try a
Periquita pastry and coffee. You can also visit the Mouros Castle.
Coimbra, the city of Love
● Coimbra is one of the oldest and most important cities in Portugal, as it was the
residence of the first monarchs in the country. It was also the setting of one of the
best known love stories of the Portuguese court: the forbidden love between Prince
Pedro and the lady of the court Inês, who was executed by order of King Afonso IV, who
saw this romance as a threat of subjugation to the Castile kingdom. For a long time, the
city was the capital of the kingdom, but later became a renowned site of universities and
public schools. Here, you can visit the University of Coimbra, one of the oldest in the
country and declared a UNESCO World Heritage Site. In the Monastery of São Miguel,
you can visit the tomb of the first monarch of Portugal, Afonso Henriques, along with the
Monastery of Santa-Clara-a-Velha and the Cathedral of Coimbra. Check out the main
museum in the city, the national museum Machado Castro, and if you want to see the
garden of Inês and Pedro, visit Quinta das Lágrimas. For the little ones, Portugal dos
Pequenitos is a must see, with its replicas of the country's typical houses. End your day
with a boat trip on the Mondego River.
Oporto, the magical city
● Porto is a magical city, with its houses and streets near the Douro River. A visit to the
São Bento Station with its impressive architecture is a must, as is a walk to the
Cathedral and the Torre dos Clerigos. Wander down the infinite stairs and streets in
the center until you reach Ribeira, with its traditional restaurants and shops. If you
dare, take a boat ride on the Douro River and be amazed by the magnitude of the
bridges and the city. You'll also find the famous Port wine cellars along the river,
some of which are open to tourists. Downtown is the home of one the most famous
cafes in Porto, the "Majestic" café, along with one of the most famous bookstores,
"Lello". Don't forget to try one of the most typical Porto meals, the famous
"Francesinha".
Serra da Estrela, the highest point in Portugal
● Serra da Estrela is one of the highest points of continental Portugal, which you can
enjoy during the cold and snowy winter months. During the spring, you'll be dazzled
by its mountains and vegetation. Climb to the highest point of the Serra to find the
Tower and go skiing on one of its many slopes. Finish your day by enjoying cheese
from the Sierra on a slice of Seia bread.
Óbidos, the sweet city
● Óbidos, just 70 km from Lisbon, is a small fortified city that looks like something out
of a movie. Within its walls, you'll find a small castle that was declared a national
monument, along with its typical medieval houses. Lose yourself in its narrow streets
and try the famous "Ginjinha de Óbidos" in a glass of chocolate.
Berlengas, the natural islands
● Berlengas is an archipelago, located 10 km from the city of Peniche. It is formed by 3
islands, but you can only visit the Verguenza Mas Grande. In the port of Peniche, you
can take a boat that brings you closer to the island, just a 45-minute ride away on the
Atlantic. These islands are a UNESCO World Heritage Site, so you'll find nothing but
fauna and flora and small fishing houses. Here, you can visit the Lighthouse of the
Duke of Bragança, which is still functioning, and don't forget to visit the Fort of São
João Batista on your trip. The island has a limited capacity, and no overnight stays
are allowed.
I remember last December 31st, just before the start of the San Silvestre Vallecana race in Madrid, 10 km away from closing out a great year. I could not complain, quite the contrary: 2019 had been a great year for me, professionally and personally. My niece was born, the greatest love I never expected to feel in life. Happy with Per Purr and our super team. Everyone close to me was healthy. I had only 10 km left to finish the year. Just before I started, I recorded a video with a very dear friend: we can do anything! The race had such contagious joy right before it began.
I could see 2020 coming, 20-20, TWO THOUSAND and TWENTY. This shining new year that I and all of us were looking forward to. A year so full of hope. So beautiful to pronounce. A year so "round" where everything would turn out even better.
Well, today, I find myself in the midst of the almost "new normal" (it's funny to say "new normal"). If it's normal, it's normal. The usual is not new. New is new, not normal. Do you follow?
I've learned to

manage

my expectations. We "know" this, but we don't. Now I am experiencing, firsthand, what it means not to have expectations. Because we can't control

everything.
       

No matter how much you make

plans,

life comes along and messes them up. And in theory, we know that, but I, for one, didn't apply it to myself. I couldn't handle my

frustration

when a well thought-out plan didn't work out. We have to keep the

balance

between plans and the inevitable that we don't control. Otherwise, we get frustrated and the frustration generates disappointment and

anxiety

.
       

We're selfish, to a greater or lesser degree, but this characteristic is part of being human. And that's just how it is,

the law of the jungle

. Back in the Stone Age, it applied; either your tribe survived or the other tribe did.

Today this no longer makes sense

. Either we care for others, or we

all

suffer. And that is what we're going through.
       

You can

live with less

. I realized that after 79 days of isolation from the world, I only bought what I needed. And you know what?

Essentials include very few things

. I realized that for me

incense

is essential.
       

I understood that

flexibility

is very possible and healthy. Knowing how to

manage

it and create a

routine

within it. Who said a routine can't be flexible?

Ford

said it, and he didn't live our "new normal".
       

I learned not to beat myself up on the days when I can't give 100%. That includes everything: work, family and friends, diet, training, WhatsApp messages not answered immediately. One day I'm at 100% and great! Another day at 50% or even 20%, and

it's okay!

The next day I'll maybe be at 120%. And that's just the way it is:

DON'T FEELING GUILTY!
       

I never thought that one day I'd be grateful to have

freedom

, a right so fundamental that we almost forget. It's so natural to

come and go

as we please that we forget that

one day you may be forbidden to do so. And they did forbid it, and rightly so. The good thing I have learned from the situation is to

value

– not just freedom, but everything we have.
       

I learned to thank the

people who are by your side,

always and as long as we need them. My only way to

thank you

is to be there for you when you need it.
       

I realized how hard it is to be away from my

family

. Even though I knew it before, it became more painful now, knowing I couldn't see them. I couldn't because it was forbidden. FORBIDDEN.
     

I am grateful that no one close to me has caught

Covid-19

or any other serious illness. I value our

health

and that of the people we love. Even if you can't take care of someone you don't know, you have an obligation to care for them in some way, especially with

respect

.
Sold throughout Arabia for over 6,000 years, Olibanum, or more commonly known as frankincense, came to be considered even more valuable than gold. Its aroma indicated great richness and importance of those who possessed it.
 
Ancient Egyptians used frankincense during ceremonies and when embalming pharaohs, while successive Chinese dynasties imported it along the Silk Route for its use in treating ailments. It was introduced to Europe by the Frankish crusaders, who called it 'francencens' in ancient French (roughly translated as 'high quality incense'), from which the modern name of frankincense is derived.
 
Frankincense is actually a resin harvested from the trunks of the Olibanum or Boswellia Carterii tree, an exceptionally hardy and drought-loving tree.
 
Boswellia trees should not be harvested more than three times a year and the best quality frankincense is said to come from the last harvest. The exuded resin hardens into amber-colored globs (almost like a beautiful bud). Also called "tears", they are sorted by hand according to their quality and then processed, by steam distillation, into essential oil.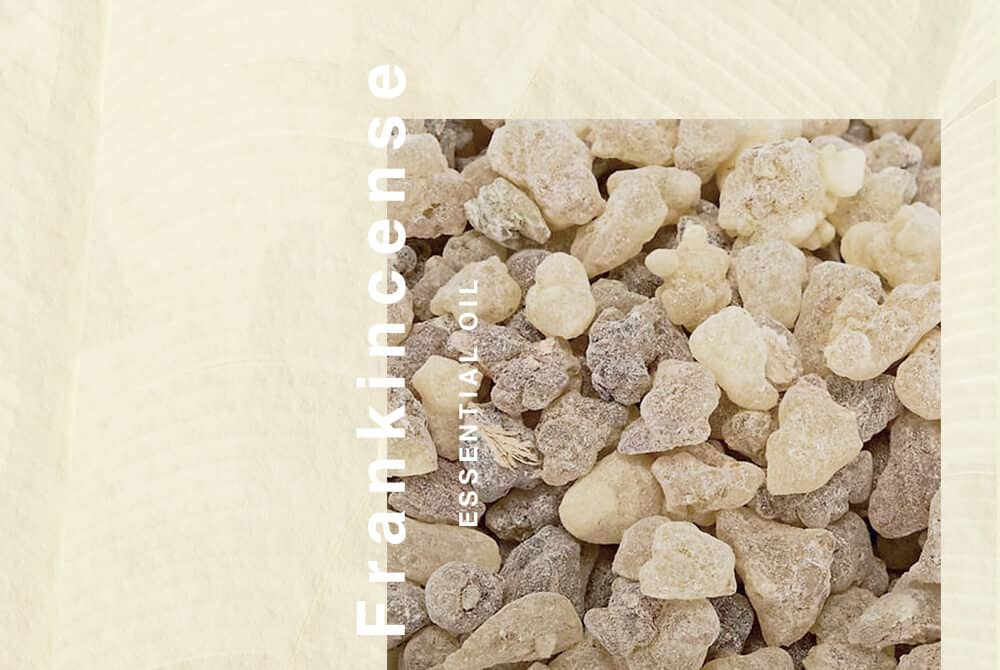 Although frankincense is now associated with yoga and meditation, it was its healing properties that made it such a valuable commodity in ancient times.
 
Frankincense contains sesquiterpenes, which stimulate the brain's limbic system (the center of memory and emotions), the hypothalamus, the pineal gland and the pituitary gland. Combined with its rich, warm aroma, it has extraordinarily comforting properties and is very useful in helping cope with despair, stress and other related nervous conditions. It is also excellent for helping to control anxiety and fear associated with major changes in our daily lives.
 
Frankincense also has anti-inflammatory properties, which means it can help open up the airways and rib cage, making it really useful in helping to control conditions like asthma, bronchitis, colds and coughs. Similarly, these anti-inflammatory properties have been reported to help people with chronic conditions such as arthritis and rheumatoid arthritis.
 
Frankincense is famous for its antiseptic, healing and immunity-stimulating properties, especially for helping to combat colds and flu. It is also very beneficial in the realm of skincare. You can find it in our Skinny Oil, because of its ability to help heal scars and reduce blemishes, wrinkles, and even cellulite.
 


 
International demand for frankincense has soared in the last decade, which has led many producers to take advantage of the massive exploitation of their trees by continuously harvesting low-quality resin from multiple bark cuts.
 
This not only damages the tree's ability to fight disease. It also weakens its ability to reproduce successfully and significantly reduces its life span, which is why it is always important to verify that the oil comes from a sustainable harvest.
 
Some studies suggest that half of all current Boswellia Carterii trees are at risk of dying in the next 20 years if these unsustainable practices continue unchecked.
 
We believe this would be a tragedy, so we are committed to sourcing the raw material for our cosmetic products from sustainably grown frankincense. For us, it's about providing quality over quantity in order to protect these amazing trees and the livelihoods they sustain for generations to come.
 
Any questions? Write to us on Whatsapp at +34 645 64 49 90, on our online chat or via email at a contact@perpurr.com.
 

There are hundreds of initiatives to promote free reading (such as book interchanging) and we find them all formidable, but these Covid days we would like to support the work of small bookstores, which are having such a hard time. So if you know a bookstore near you, try to buy your next book there or see if they have an active digital platform.
It was in one April 23 (international book's day) when great icons of universal literature such as Miguel de Cervantes, William Shakespeare, Inca Garcilaso de La Vega or Josep Pla died, making this day "book's day". We would love to make some recommendations. As we believe that with regard to narrative literature you will have hundreds of suggestions, we will focus on what most characterizes Per Purr.
Yesterday, April 22, was also Earth Day and to commemorate the specialness of all our surroundings and the wonders that nature offers us, nothing like starting with 'Plants that heal' by Fabienne Millet and Sioux Bergel (Lunwerg Ediciones). As its name indicates, this book will be very useful as a practical guide on the benefits of more than 40 different plants and how you should use them to take care of yourself both mentally and physically. Never forget that the power of plants is also in their aromas and always remember to protect your environment, just as nature gives us all its riches and cares for us.
Since we have mentioned the matter of the mind we cannot miss this occasion to mention 'The Tree of Yoga: Yoga Vriksa' (Kairos). Through a fresh reading its author, B.K.S. Iyengar, mixes the philosophical part of yoga with your practice. Remember that knowing the theoretical basis is essential to find balance. Therefore, whether you are already started in yoga or want to start, we recommend that you keep this book close by as a guide.
The environment is another fundamental element in our lives. Now more than ever, we are aware of the importance of our homes and the arrangement of spaces. So, we want you to enjoy the combinations made by Hans Blomquist in en The Natural home '(Rayland Peters). The stylist and art director creates a path of connection between the environment and nature thanks to the selection of textures, colors, plants and, of course, simplicity.
Speaking of the beauty of homes, we consider that it is also important to highlight our own. 'I do take care of myself' Patricia Pérez (Aguilar) is a perfect option if you want to know a little more about natural cosmetics, their benefits and the ingredients you should avoid in your body.
To finish, we go to an option that you may have to look for in the library or in a second-hand bookstore. Although we know that 'Allure. Confessions of a beauty editors' by Linda Wells, it may seem like a bit outdated proposal (2006) and that we also don't know of any translated version, we would love for you to read the advice of this expert editor in beauty. Although there are now many accounts that tell us about beauty tricks, the truth is that not everything is always shown.
Stay home, relax, do yoga, play apothecaries or take care of your skin, but above all, don't stop reading!
Happy book day!
No es ningún secreto que el deporte es una de las mejores actividades que podemos realizar. La lista de sus beneficios físicos es bastante amplia, desde la estimulación del músculo cardiaco y la reducción de la presión arterial hasta el fortalecimiento de la estructura muscular esquelética, pero tampoco queremos dejar a un lado su otra cara buena.
Si bien es cierto que en estos días no es posible realizar una actividad física grupal o al aire libre, podemos replantearnos la forma de descargar nuestra energía y pensar en lo que haremos después. Siempre es bueno direccionar nuestro presente hacia el futuro, pensando en que lo que hagamos hoy tendrá su efecto mañana.
Aparte de las modas, no podemos olvidar que el ejercicio físico forma parte de nuestra vida casi desde bebés; cuando nuestras madres y padres nos mueven las piernas y los brazos para que fortalezcamos nuestras articulaciones. Después descubrimos lo que es el equilibrio y no dejamos de levantarnos al caernos, aprendiendo lo que es la persistencia. Mejoramos nuestras capacidades con lo que creemos que son juegos y en realidad estamos ejercitando nuestro cuerpo. 
Parece que a veces no sabemos dar tanta importancia al deporte, pero por alguna razón es también una parte imprescindible de nuestra educación. El deporte nos ayuda a tener un mayor conocimiento y control sobre nuestro cuerpo. 
Aunque en algunos casos la actividad física diaria no sea colectiva, todos hemos practicado deporte formando parte de un grupo y, sin darnos cuenta, gracias también a ello hemos aprendido lo que significa la palabra equipo, algo fundamental en todas las etapas de la vida.
Desde la Edad Antigua la educación espiritual se conexionaba con la física. Y es que la unión entre el cuerpo y la mente siempre ha sido fundamental para la promoción del cuidado, el respeto o la libertad. Un claro ejemplo fueron las escuelas gimnásticas del siglo XIX, donde el ejercicio iba ligado en todo momento al aprendizaje de valores como la honestidad, valentía, compañerismo o la fuerza de superación.
 Mucho más allá de los datos de la historia está comprobado que el deporte ayuda en la prevención de las conductas antisociales, mejorando la responsabilidad personal y social mediante las habilidades de comunicación y cooperación desarrolladas. Pero, ¿qué relación o efectos directos tiene sobre la mente?
El deporte nos ayuda a completar las tres necesidades psicológicas básicas según la teoría de la autodeterminación;  la cual vincula personalidad, motivación humana y funcionamiento óptimo en relación a los factores que estimulan el tipo de actuación en las personas. Estas necesidades (autonomía, competencia y relación social) son fundamentales también para el bienestar y crecimiento personal. 
El deporte, concebido desde un aspecto positivo y controlado, ayuda a reducir la frustración ante determinadas situaciones y con ello también la ansiedad o la posibilidad de sufrir depresión. 
Cuando el cerebro considera alguna situación amenazadora libera neurotransmisores del estrés que alteran nuestro razonamiento y percepción del bienestar, no obstante, gracias al deporte se desarrollan una serie de valores que fomentan el autocontrol y así nuestro cerebro consigue relajarse y procesar la información de manera más racional ante ciertas situaciones. Además de la ya conocida producción de endorfinas, conectadas con las sensaciones de bienestar, placer y optimismo tan necesarias en estos días.
We want to share with you this article that seems fundamental to understand why maintaining good hygiene is so important, but not just in these turbulent times... always. As we understand that not everyone understands English, and in case the automatic translator of your search engine fails you, we would like to summarize here the most important points highlighted by the Professor of Chemistry at the University of New South Wales, Palli Thordarson.
To better understand why soap is the best way to prevent or get rid of the virus, we must first understand how a virus works. The professor emphasizes then that there are three fundamental elements by which a virus is composed:
RNA = A nucleic acid genome (like the DNA of the virus)

Protein. Which generates a barrier around the virus and helps its development and multiplication within the host's body.

An outer layer of fatty lipids.
The connection between these three components is what provides the virus structure, however Professor Thordarson points out that this structure is "weak". Although we cannot understand the survival of the virus in this regard, we must know that the so-called viral self-assembly is based precisely on these weak interactions between proteins, RNA and lipids. These commonly called weak interactions form a virtually unbreakable barrier.
This assembly, which we will call the "viral particle", can be broken with soap because it contains fatty substances similar to the lipids of the virus.
Here Professor Thordarson explains how soap, in contact with lipids, makes them disconnect from the virus and from the skin; As lipids are removed, so are other weak links that make up the virus. Then, the virus, without connecting these links, crumbles.
However, we have to be very thorough with the correct soaping. Although soap helps to destroy the virus membrane, we must be aware at all times of the adhesion force of the virus. With its irregular shapes and nano-size it can attach itself within any of the small wrinkles of our hands. For this reason it is important not to leave any area without soaping and to maintain the process for a minimum of 20 seconds so that the soap can perform its function.